Forum Regular
Posts: 57
Joined: Thu Jun 15, 2006 4:12 pm
Location: Christchurch, NZ
Contact:
I have a 1983 T1 with a pod filter, 13" turbo 2 rims, boost gauge and the cat converter has been removed. I want to increase boost from stock 11lb to 14. Will this make a noticeable difference? Also what other bolt on modifications should I do next?
---
Hi, I'd go for front mount intercooler or 2.5" dump pipe. let's see what others have to say
---
Moderator / Donating Member
Posts: 3092
Joined: Wed Apr 09, 2003 1:59 pm
Location: Putaruru
Contact:
Depends how much you have to spend. If you want to spend less than $100, then go for a front mount. If you want to spend around $400-500 then go for a new exhaust. Both fairly similar bang-for-buck. Remeber if you do your exhaust you'll have to grind out the wastegate hole, takes about 20 mins with a die grinder and a carbide bit, just did it on NZ_mike's car.
---
---
---
If the hole is too small, and your exhaust too free-flowing, the waste gate won't be able to dump the exhaust gas that needs to get out in order to maintain a certain boost level so, the only other way for the gas to exit is to go out through the turbine, causing overboost. Or at least that's my take on it. Bigelboe will have a more detailed description of what's goin on in there.
---
Moderator / Donating Member
Posts: 3092
Joined: Wed Apr 09, 2003 1:59 pm
Location: Putaruru
Contact:
Ok I felt a digitally enhanced picture of the turbo was required for this
3N16M4 had it right, when you stick on a decent exhaust you make the main turbine be able to flow a whole lot more than the wastegate can comparitively flow, this means that the wastegate can no longer control the speed of the turbine, which means you overb
st. To rectify this you have to increase the flow of the wastegate, easiest way to do this is to bore it out.
This means increasing the diameter of the bit with the green arrows in relation to the bit with the yellow arrows, In practice you can nearly get them to be the same diameter.
My preferred tool is a carbide burr in a die grinder (or drill but it wont work as well), you can also do it with a rat tail file if you are dilligent (like 8 hours of filing) or just grindstones in a die grinder or a drill if you can find small ones, but bank on going through a couple its cast iron remember.
Ideally you want to enlarge the wastegate hole from its tiny original size to just within the outline of the flapper plate thingie. The plate has quite a bit of movement so you cant really go closer than about 1.5mm to the outline of it without risking having a small gap all the time, which will make it ever so slightly more laggy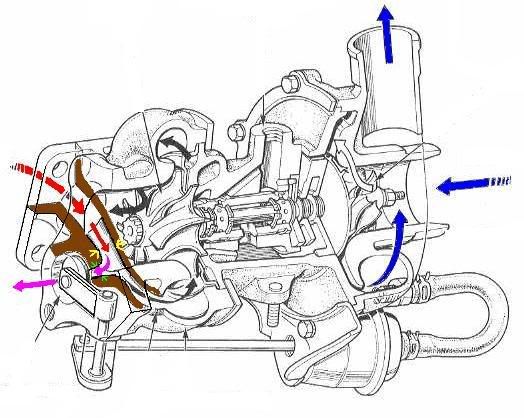 The red circle is approximately the outline of the shinier bit of the wastegate sunken bit, this is where the flapper has rubbed it smooth, so at all time the hole must be smaller than this. The blue line is approximately how large you can make the hole, significantly bigger than original, you can also smooth out the transition into the wastegate so you can get even more flow that way.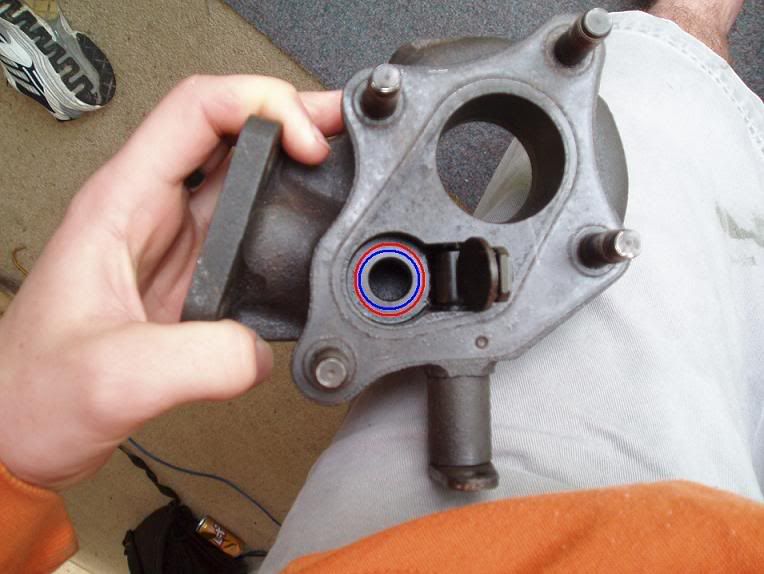 EDIT: Just had another look in better light, the shiney bit is actually about 1mm bigger than the red circle, so you can bore it out a wee bit bigger than the blue circle, you'll easily see how big you can go when you get in there anyway.
Also Do you guys recon this is owrthy of the infobase? Its quite an important issue for anyone that sticks a big exhaust on.
---
well explained
for some silly reason i thaught the reaming out of the hole was to make the flap leak
(i should stop smoking all that crack hehe)
ok then i have got at 2.5in dump&zaust and i dont overboost.the wastegate hole has not been touched (not a stock turbo tho its a rodeo turbo)
yes i think this is infobase worthy
matt
---
Here's my wastegate before and after pictures, the shiny ring to stay within is quite evident in the picture on the left. After the picture on the right was taken, I really smoothed the edge of the hole, and ground/filed/sanded a smooth curve on the inside.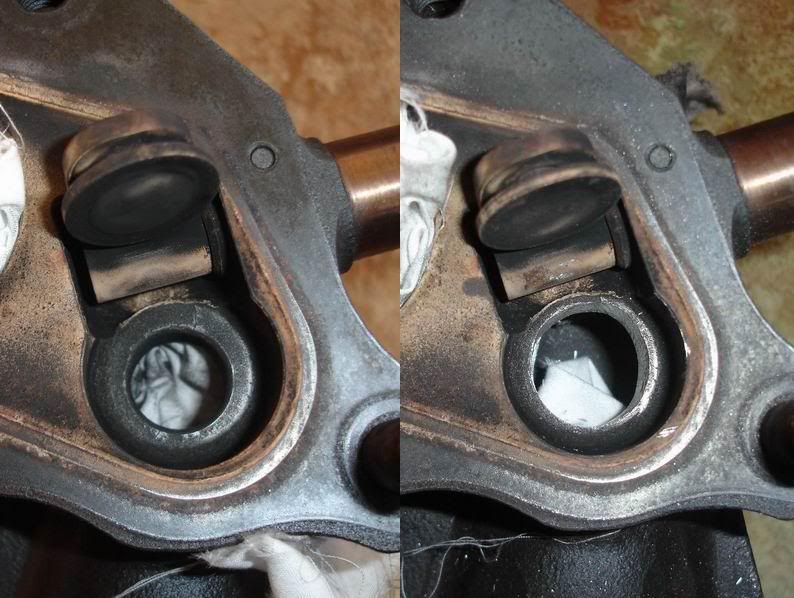 This is the carbide bur we used, it was about $30, and did an excellent job.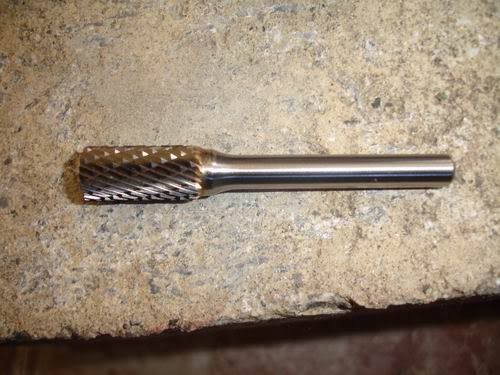 ---
Moderator / Donating Member
Posts: 3092
Joined: Wed Apr 09, 2003 1:59 pm
Location: Putaruru
Contact:
Nice pics Mike, they turned out pretty well. Looks good all smoothed out. I recon if you cut the spring inside the wastegate actuator you could run lower than factory boost with the hole that big.
---
Donating Member
Posts: 162
Joined: Sun Jan 01, 2006 4:26 pm
Location: Adelaide South Australia
Yeah Bigelboe you are on the money with your pics, i also did the same to my turbo manifold. On the turbo side of the manifold you can take a little material out not so much to make the hole bigger but inside there are a couple of sharp corners for the gas to flow past get the die in there and smooth them off has worked good for me.
---
---
Who is online
Users browsing this forum: No registered users and 7 guests