Search found 7 matches
Search found 7 matches • Page 1 of 1
by icebert

Fri Apr 16, 2021 8:55 am
Forum: General
Replies: 9
Views: 12502
Just wanted to say thanks to the forum, I've been hunting for rear shock for my pro-t. The Kayaba KYB 365076 toyota shocks fitted with little effort and the brake hose mount cut off old shocks and clamped to new one. Last thing I need to sort. Now I can get my road worthy and get the little beast r...
by icebert

Sun Apr 11, 2021 9:40 am
Forum: For Sale / Wanted
Topic: looking for a interior part
Replies: 2
Views: 2305
Hi Archshape , I am keen for the front fender turn signal seal, are they the oval shape one (for turbo) or round one(standard City)? How many do you have?
by icebert

Tue Mar 23, 2021 5:01 pm
Forum: For Sale / Wanted
Topic: Seals and Bushes for T2
Replies: 0
Views: 2110
Looking for the following parts for Honda City Turbo 2 - Any light would be greatly appreciated
Rear Sway bar Link Bushes
Fount Lower arm bushes
Fount Lower Arm Link Bushes (both side)
Transmission shift link seal
by icebert

Tue Mar 16, 2021 5:16 pm
Forum: For Sale / Wanted
Replies: 3
Views: 2664
Full Set of City Turbo 2 Replacement Decals Stickers
Pick up available in East Auckland of ship anywhere at buyer cost
$89 NZD per set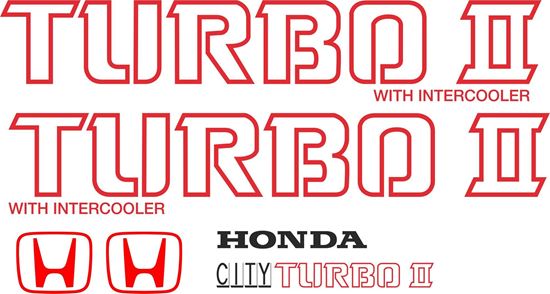 ---
Search found 7 matches • Page 1 of 1